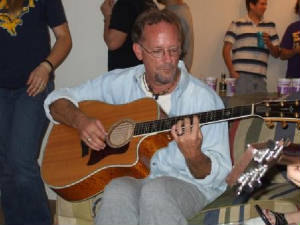 (c) 2009 Trudi Southerland
is...
Born and raised in the South, Jeff's heritage and musical roots are sunk deeply in the rich foundation of Blues, Southern Gospel, and good old fashioned Rock 'n Roll!!
Despite having a 'regular day job', Jeff still has over 25 years as a practicing professional musician & consistently delivers an eclectic blend of musical styles!! Writing, performing and producing everything from Alternative Rock, Blues, Country & Adult Contemporary...Jeff does it all!!
Working and playing out of Charlotte, NC, Jeff is available to help you produce your original demos!! Equipment and facilities are available or recording sessions can be done at your location!!
In March, 2006, Jeff was selected as SongRamp.com "Artist of the Month"....Click on the graphic to go check out Jeff's interview!!
© Dianne Rulliere

Please take some time to look around, sample what Jeff has to offer....And drop him a line if you'd like to share in some of the 'iisee Magic'!!

"Brand New Name" is Jeff's latest Top #10 hit song on SongRamp.com!! This song features a dynamite vocal from Derek set against a great lyric from Trudi and Jeff!!